I have been feeling good about myself lately. I was content with my mother, my roommates, my talent, and even the fact that I am an Aries. This was until two months ago. After the bomb exploded in the heart of the city on İstiklal Street, I became more afraid to walk down the street. Thus, I began to spend more time at my friends' houses. When we meet with Istanbul's queer community, we usually eat and talk. These gatherings make us feel better.
I called my mother the other day, on her Gold Day - it's when a group of women come together at set intervals to chat, eat, and exchange gold or foreign currency to support each other; a kind of investment. She told me on the phone how she didn't like Kısır made by her friend Medine because it had too little pomegranate syrup and was too soggy. For the past 20 years, my mother and her friends over the age of 70 have been meeting every month, and Kısır is at the center of these gatherings.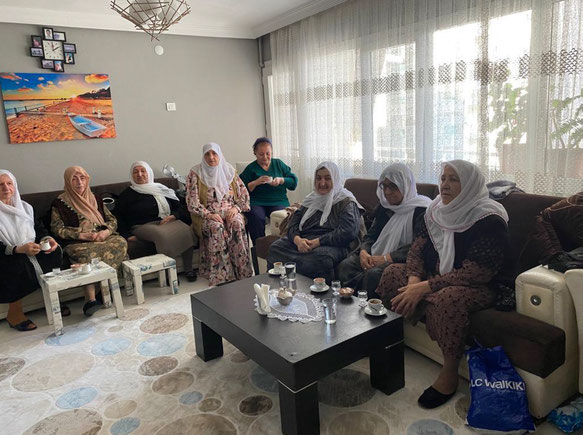 My mum Remziye and her Gold Day friends
In March, I will travel to Gelbes Haus in Switzerland for an artist residency program... In Lucerne, Switzerland, I want to cook Kısır with queers and women+, chat, and sharing emotions and making q&f (queer and feminist) gossips. I want to share the unifying effect of Kısır with you. I would also like to share this economic cycle with you, just like my mother does on Gold Day. Let's see how it will go.
In addition, Lena, my new roommate, has moved into our apartment. A large circle of coincidences describes how life works. Until she completes her Erasmus program, Lena will stay with us for three months. Lena comes from Lucerne, for some reason. I'm still really surprised and amused by this synchronicity. She gives me some advice and strategies for Lucerne. The Café Kind in Luzern, Network Neubad, Bourbaki Cinema Hall, and Klub Kegelbahn… She continues to think of fresh ideas and gives them to me in the meantime. So I ask her where I can buy the supplies I need for Kısır in Luzerne.
Last week, I had a meeting with Kader and Gabi from the Istanbuluzern team. They were genuine and enthusiastic, which made me feel fantastic. I had an email conversation with Giuliana from Gelbes Haus. She shared pictures of my room, and they show that it's a lovely, peaceful space. On the other hand I want to talk to Manuel this week about growing Kısır vegetables. I have only ever planted flowers. Never have I grown any vegetables. I believe I will gain a lot of knowledge along the process.
Recently, I visited Gamze. They are unhappy and afraid to walk down the street, too. I wish they could come with me to Switzerland... Gamze's Kısır is also tasty. And once again, I wonder if Kısır will heal our wounds and bring us together.
Who knows?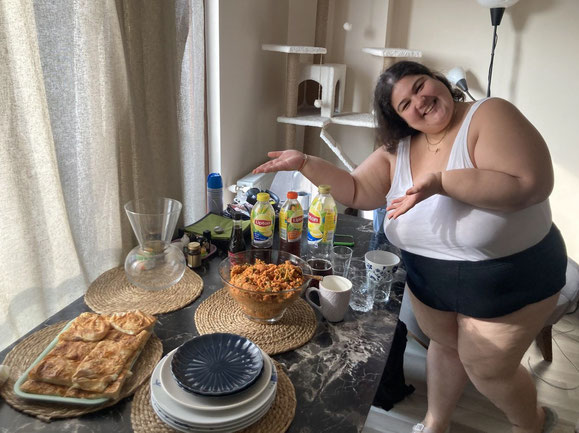 *Gamze has prepared Kısır and Börek for me.
I'm not sure; my thoughts are all over the place. We are, after all, Virginia Woolf's kids. My thoughts are associative. While writing this article, I used a similar stream of consciousness approach. I don't want to upset myself over the world of masculinity, which causes bombs to go off, causes wars, and spreads selfishness and hatred. We can make our own private spaces, thank God. Women, migrants, LGBTQ individuals, and others. We also understand what it means to unite and stand together. And I'm delighted that's how it is. We, women and queers, still have got Kısır in the male/patriarchal world that detonates bombs. Men got the çiğ köfte; we're not going to give them Kısır.

«For example, çiğ köfte, which is another interpretation of bulgur, has been identified with masculinity and has fallen into the market, and I think that Kısır has remained a dish that is unique to women and that women resist standardization by keeping their own unique recipes alive. – I am very happy that we saved the kısır!»
 *Excerpt from Aunt Zibiş's Kısır recipe narrative from "Göz Kararı" mobile application
Metin Akdemir
İstanbul, 14.12.2022